Dyslipidemia in diabetic nephropathy
Renal Replacement Therapy
2016
2:16
Received: 12 January 2016
Accepted: 15 February 2016
Published: 2 May 2016
Abstract
Diabetic nephropathy (DN) not only is a major cause of end-stage renal disease (ESRD) in developing and developed countries but also plays a critical role as a risk factor for cardiovascular disease. The pathogenesis of DN is multifactorial and remains to be elucidated. It is well known that dyslipidemia is frequently complicated with diabetes. Recently, dyslipidemia has been recognized to be involved in the progression of DN. In general, diabetic dyslipidemia is caused by impaired action of lipoprotein lipase (LPL) that is localized to the endothelial cells, resulting in increased serum levels of increased triglyceride (TG) and decreased high-density lipoprotein cholesterol (HDL-C). Smaller size and modified low-density lipoprotein (LDL), such as glycated and oxidized LDL, play important roles to induce vascular and renal cellular dysfunction. Previous studies demonstrated that dyslipidemia enhances macrophage infiltration and excessive extracellular matrix (ECM) production in the glomeruli under diabetic conditions, leading to the development of DN. Clinical studies have demonstrated that lipid-lowering therapy shows a protective effect on the renal function. It is well known that statins reduce albuminuria in patients with DN. A series of our studies indicated that this effect is mediated by Rho-kinase inhibition. Rho-kinase plays a key role in the pathogenesis of DN by activating the inflammatory pathway, including oxidative stress, NF-κB, and hypoxia inducible factor (HIF)-1. Intriguingly, Rho-kinase inhibitors have been shown to attenuate glomerulosclerosis as well as atherosclerosis. Therefore, Rho-kinase could be a promising therapeutic target for both DN and cardiovascular disease.
Keywords
Diabetic nephropathyDyslipidemiaCardiovascular diseaseStatinRho-kinase
Background
Dyslipidemia, an important risk factor for cardiovascular disease, is frequently complicated with diabetic nephropathy (DN). Managing dyslipidemia in DN is extremely important because patients with DN are at a high risk for cardiovascular disease-associated death [1]. Furthermore, dyslipidemia has been shown to play crucial roles in the development and progression of DN [2]. Impaired lipoprotein metabolism, such as increases in very low density lipoprotein (VLDL-C) and low-density lipoprotein cholesterol (LDL-C) and a decrease in high-density lipoprotein cholesterol (HDL-C), is observed in patients with diabetes [3]. In addition to these quantitative changes, quality changes including small dense LDL [4] and oxidized LDL (ox-LDL) make lipoproteins more proatherogenic in diabetes. This review article describes our current understanding of the role of dyslipidemia in the development of DN and the significance of lipid-lowering therapy for the prevention of cardiovascular disease and DN.
Etiology and epidemiology of diabetic dyslipidemia
Typically, patients with type 2 diabetes show increased serum levels of triglyceride (TG) and decreased HDL-C. Furthermore, modifications of LDL, such as glycation and oxidation, are enhanced under diabetic conditions. The prevalence of high LDL-C in patients with diabetes appears to be similar to that of the general population, as demonstrated by the Framingham Study and the United States National Health and Nutritional Examination Survey (NHANES) [5]. In the United Kingdom Prospective Diabetes Study (UKPDS), no differences in total cholesterol levels were reported between diabetic and non-diabetic subjects. The LDL-C levels were comparable in males but higher in females with type 2 diabetes compared to those without type 2 diabetes [6]. On the other hand, increased serum levels of TG and decreased HDL-C were reported in diabetic patients in these studies. In the Framingham Study, an elevation in serum was observed in 19 % of males and 17 % of females with type 2 diabetes, whereas it was observed in 9 % of males and 8 % of females in non-diabetic subjects [7]. In the UKPDS, 50 % of patients with type 2 diabetes had high serum levels of TG [6]. The Heart Protection Study (HPS) showed that the prevalence of low HDL-C was higher in diabetic individuals (21 % in males and 25 % in females) compared to non-diabetic individuals (12 % in males and 10 % in females) [8].
Lipid metabolism in diabetes and DN
As described above, dyslipidemia in diabetes is characterized by an increase in VLDL, LDL, and TG and a decrease in HDL [9]. Under the diabetic milieu, hormone-sensitive lipase is activated, which results in the release of free fatty acid (FFA) from the adipose tissue. The flux of FFA promotes hepatic triglyceride production, leading to excessive apoB and VLDL synthesis [9]. In addition, lipoprotein lipase (LPL) activity is suppressed under the condition of insulin resistance [10]. These changes result in an increase in the serum levels of TG and remnant particles. Apolipoprotein (apo) B48, a major component of chylomicron, is also increased in diabetes, suggesting an accumulation of chylomicron remnants [11]. It has been demonstrated that insulin resistance is aggravated along with the progression of DN, even in the early stage of microalbuminuria [12]. An elevation in the serum levels of apoC-III, an inhibitor of LPL, is also observed in subjects with DN [3].
It has been reported that the serum level of apoB100 is increased in DN [13]. ApoB100 is synthesized in the liver and transferred into VLDL or LDL particles at one molecule per particle. Therefore, a high serum level of apoB100 indicates an increment in the number of VLDL and LDL particles.
Cholesteryl ester transfer protein (CETP) mediates exchange of cholesteryl ester and TG. CETP activity is regulated by apoC-I, a physiological CETP inhibitor. Recently, Bouillet et al. demonstrated that apoC-I's ability to inhibit CETP activity is impaired in diabetic patients [14], which is explained by glycation of apoC-I [14]. Furthermore, it has been shown that the CETP levels are increased in ESRD patients, although the precise mechanism remains unknown [15, 16]. VLDL receives cholesteryl ester from HDL and transfers TG to HDL by CETP. As a consequence, the amount of cholesterol-rich VLDL remnant particles and cholesterol-depleted HDL particles are increased. TG-rich HDL can be hydrolyzed by LPL or hepatic TG lipase (HTGL), thereby becoming lipid-poor HDL which is filtered by the glomeruli and degraded in renal tubular cells [4]. Insulin has been shown to play an important role in the production of apoA-I, which is a major apolipoprotein of HDL [17, 18]. As such, reduced insulin action is potentially involved in the low HDL levels in type 2 diabetes, especially complicated with DN. Furthermore, inflammatory cytokines including tumor necrosis factor (TNF)-α have been shown to inhibit the production of apoA-I and HDL [17]. Nevertheless, the mechanism underlying low HDL in diabetes is complicated and remains unclear.
Ox-LDL is a well-known atherogenic lipoprotein that is modified by oxidation [4]. Recently, small dense LDL is recognized as another important atherogenic lipoprotein due to its potent oxidative property. The serum level of small dense LDL is increased in insulin resistance and diabetes [3]. Of note, the serum level of small dense LDL is reportedly elevated in patients with DN [3], which may be associated with an increased risk for cardiovascular disease in DN.
Impairment of the renal function by lipids
It has been recognized that lipid nephrotoxicity is involved in the development of DN since the 1970s [19]. Previous studies have shown that dyslipidemia facilitates glomerulosclerosis under diabetic conditions. Dyslipidemia complicated with diabetes has been shown to be involved in the development of DN. We have previously demonstrated that hypercholesterolemia exaggerates albuminuria in diabetic rats [20]. From a mechanistic standpoint, this was the first report to demonstrate the involvement of macrophage infiltration into the glomeruli in the progression of DN [20]. Furthermore, excessive extracellular matrix (ECM) production was found in the glomeruli of diabetic LDL receptor-deficient mice [21]. Finally, lipid-lowering therapy has been shown to improve glomerulosclerosis in the Zucker rat, a model of diabetes complicated with dyslipidemia [22]. Mesangial cells and glomerular epithelial cells (podocytes) have been shown to express receptors for TG-rich lipoproteins (TGRLs) [23–26]. TGRLs stimulate inflammatory pathways via the secretion of proinflammatory cytokines such as TNF-α, transforming growth factor (TGF)-β, and interleukin (IL)-6 [27], which results in the production of reactive oxygen species (ROS), leading to excessive ECM production. It has also been reported that ROS itself potentiates TGF-β-mediated signaling, which may cause a vicious cycle in the process of excessive ROS and ECM production [2, 28]. Ox-LDL binds to scavenger receptors in mesangial cells and podocytes [29, 30], thereby increasing ECM production as well as chemokine production, such as monocyte chemoattractant protein (MCP)-1 which induces monocyte migration toward the glomeruli and results in macrophage infiltration [31]. Macrophages become foam cells through the uptake of ox-LDL and facilitate the inflammatory pathway. Several factors, including sterol regulatory element binding protein (SREBP)-1 and Toll-like receptor (TLR) 4, have been shown to mediate lipid nephrotoxicity [32, 33]. The expression of SREBP-1, an important regulator of cellular lipid synthesis [34], is upregulated in STZ-induced diabetic rats. Interestingly, the progression of DN is inhibited in SREBP-1-deficient mice. The development of DN is also inhibited in TLR4-deficient mice fed a high-fat diet [32, 33].
Another mechanism by which TGRLs induce glomerulosclerosis is disruption of the endothelial cell glycocalyx [2]. The glycocalyx is composed of proteoglycans, glycoproteins and glycosaminoglycans and located at the interface between the lumen and endothelial surface [35]. The glycocalyx maintains the endothelial function and regulates glomerular permeability depending on the size and charge of the solute [2]. It has been reported that the volume of systemic glycocalyx was significantly lower in patients with type 1 diabetes than in age-matched control individuals [36]. More interestingly, patients with microalbuminuria showed lower volumes of systemic glycocalyx compared to those without microalbuminuria [36], suggesting that disruption of the glycocalyx may cause alterations in glomerular permeability, leading to albuminuria.
Glycation of LDL has been shown to be involved in the development of DN. Glycated LDL is a modified LDL which is generated by non-enzymatic binding of glucose to LDL. Advanced glycation end-products (AGEs) and receptor for AGEs (RAGE) are considered to play critical roles in the pathogenesis of diabetic vascular complications [
37
]. RAGE recognizes multiple AGE-moieties as ligands including glycated LDL, thereby inducing inflammatory and fibrotic responses [
38
]. Taken together, abnormal changes in the quantity and quality of lipoproteins occur in DN, which in turn coordinately promote impairment of the renal function in diabetes (Fig.
1
).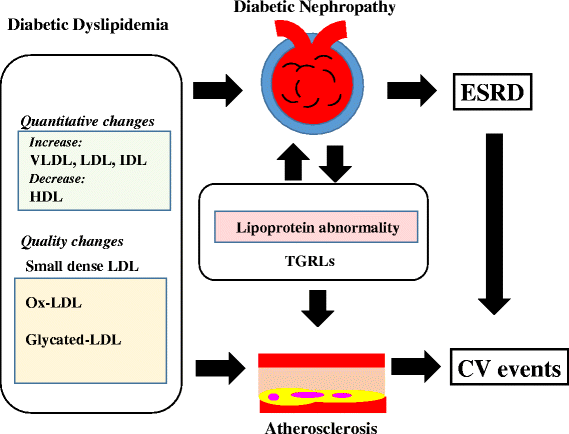 Significance of lipid-lowering therapy in DN
Conclusions
Dyslipidemia is an important therapeutic target in the treatment of diabetes. Furthermore, DN accelerates abnormal lipoprotein metabolism, which causes the progression of DN as well as cardiovascular disease. Statin use should be considered for patients with DN to prevent cardiovascular events and renal impairment. However, further evidence is required to establish the benefits of statin use in patients with ESRD.
There is growing evidence that Rho-kinase plays a key role in the development and progression of DN. Statins inhibit Rho-kinase activation, which may be responsible for the pleiotropic effects of statins. Our recent findings raise the possibility that the use of Rho-kinase inhibitors along with statins provides a more potent and specific protective effect on DN.
Lipid-lowering therapy other than statins, such as fibrate, is also important. However, it should be noted that the combination of statin and fibrate is contraindicated for patients with moderate to severe renal impairment. The clinical background of each patient should be taken into account before starting lipid-lowering therapy.
Declarations
Acknowledgements
This work was supported by a Grant-in-Aid for Scientific Research from the Japan Society for the Promotion of Science (to K.U. and D.K.), Takeda Science Foundation (to D.K.), Banyu Foundation International (to D.K.), and the Uehara Memorial Foundation (to D.K. and K.M.).
Open AccessThis article is distributed under the terms of the Creative Commons Attribution 4.0 International License (http://creativecommons.org/licenses/by/4.0/), which permits unrestricted use, distribution, and reproduction in any medium, provided you give appropriate credit to the original author(s) and the source, provide a link to the Creative Commons license, and indicate if changes were made. The Creative Commons Public Domain Dedication waiver (http://creativecommons.org/publicdomain/zero/1.0/) applies to the data made available in this article, unless otherwise stated.
Authors' Affiliations
(1)
Division of Diabetes, Metabolism and Endocrinology, Department of Internal Medicine, Jikei University School of Medicine, Minato-ku, Japan