Histopathological findings in transplanted kidneys
Renal Replacement Therapy
2017
3:6
Received: 2 September 2016
Accepted: 16 December 2016
Published: 16 February 2017
Abstract
Improvements in immunosuppression have reduced acute kidney allograft rejection and clinicians are now seeking ways to prolong allograft survival to 20 years and beyond. The primary cause of kidney allograft loss is still chronic rejection, followed by death with a functioning allograft and primary kidney disease recurrence. Thus, overcoming kidney allograft rejection remains the most important issue. Kidney allograft rejection can be classified into two types: T cell- and antibody-mediated rejection. Both are diagnosed pathologically based on the Banff 2013 classification. Other important pathological features in addition to rejection include calcineurin inhibitor toxicity, polyomavirus nephropathy, and recurrence of the primary kidney disease. Here, we review the diagnosis and representative features of histopathological findings in transplanted kidneys.
Keywords
Transplant kidney pathologyAntibody-mediated rejectionT cell-mediated rejectionCalcineurin inhibitor (CNI) nephrotoxicityPolyoma virus nephropathyRecurrence of primary kidney disease
Background
Kidney transplantation enhances the quality of life and patient survival in end-stage renal disease (ESRD). The total number of kidney transplantations has increased 1.6-fold over the past decade in Japan. The Japanese Society for Clinical Renal Transplantation (JSCRT) reported that the total number of renal transplantations in 2015 was 1661 versus 994 in 2005. JSCRT data obtained since 2000 showed that the 10-year patient and graft survival times were 93.8 and 80.2%, respectively (http://www.asas.or.jp/jst/pdf/factbook/factbook/2015.pdf).
Reasons for graft loss were primarily chronic rejection (47%), followed by acute rejection (6.2%), and recurrence of the original kidney disease (1.8%) (http://www.asas.or.jp/jst/pdf/factbook/factbook2015.pdf). These data clearly suggest that the diagnosis and treatment of kidney allograft rejection remains the most important issue. Rates of acute rejection in the first year post-transplant have improved consistently since 2008 and remain similar for deceased- and living-donor recipients. For the period 2012–2013, only 8.5% of patients with deceased-donor kidneys and 8.1% with living-donor kidneys experienced acute rejection (T cell- or antibody-mediated) by 1 year after kidney transplantation [1]. Risk factors for acute rejection—T cell- and/or antibody-mediated—include the degree of histocompatibility between the donor and recipient, the level of presensitization [previous graft, pregnancy, blood transfusion], immunosuppressive drug regimens, and the level of patient adherence with daily therapy [2]. Current immunosuppressive drug protocols with calcineurin inhibitors (CNIs), steroids, and mycophenolate mofetil (MMF) have reduced the frequency of acute T cell-mediated rejection (TCMR) considerably [3].
Kidney allograft rejection can be classified into two types: T cell- and antibody-mediated rejection (ABMR). Both are diagnosed pathologically based on the Banff 2013 classification. The Banff meeting, firstly started in 1991 by Prof. Kim Solez of University of Alberta, is a consensus meeting regarding allograft pathology that has been held every 2 years. The latest version of the Banff classification was prepared in 2013. The Banff classification consists of the following six categories: (1) normal, (2) ABMR, (3) borderline changes, (4) TCMR, (5) interstitial fibrosis and tubular atrophy (IF/TA), and (6) other. It should be noted that not only rejection but also additional histopathological findings, such as CNI toxicity and polyomavirus nephropathy, may overlap [4]. Here, we introduce details of the classification and discuss representative histopathological findings from transplanted kidneys.
Kidney allograft rejection
CNI nephrotoxicity
CNIs are fundamental maintenance immunosuppressants but, ironically, these drugs can cause renal toxicity by several mechanisms. The histological features can be divided into two types, acute and chronic nephrotoxicity, and the target lesions involve the glomeruli, arterioles, and tubulo-interstitium. Acute CNI nephrotoxicity include TMA, afferent arteriolar vasoconstriction, and isometric vacuolization of tubules, whereas chronic CNI nephrotoxicity includes glomerulosclerosis, arteriolar hyaline thickening, and IF/TA [108]. CNI nephrotoxicity also affects recipients with non-renal organ transplantation. Indeed, the risk of chronic renal failure at 10 years after transplantation of a non-renal organ was reported to be ~20% [107]. However, end-stage renal failure caused by CNIs is uncommon, at 3.2–4.8% [109, 110]. For kidney transplantation, the actual occurrence rates at 5 and 10 years after kidney transplantation were 66 and 100%, respectively [111].
Characteristic histological manifestations of acute CNI nephrotoxicity
Early histopathological changes in glomerular capillaries include fibrin thrombi and endothelial cell swelling. These TMA-like changes range from mild to severe, and mild changes occur sometimes with no clinical sign. Afferent arterioles are likely to be affected by CNI nephrotoxicity and the histopathology shows smooth muscle cell swelling and ballooning in early changes. Regarding tubular injury, the straight portions of proximal tubules are likely to be affected. An isometric vacuolization, characterized by small vacuoles filled to normal-size tubular epithelial cells, is an early change in CNI nephrotoxicity [112] (Fig. 3d).
Characteristic histological manifestations of chronic CNI nephrotoxicity
Late histopathological changes in glomerular capillaries include the thickening and duplication GBM. These changes are believed to result from the remodeling action induced by chronic CNI endothelial cell injury [113]. The nodular hyaline deposits, which are replaced by the necrotic smooth muscle cells of the media, are distinct features of late changes in CNI nephrotoxicity (Fig. 3e) [114]. In chronic tubular injury, IF/TA may occur but such changes are non-specific.
Therapy for CNI nephrotoxicity
To reduce CNI nephrotoxicity, the clinician should try to control serum CNI concentrations to lower levels, but such methodologies may induce rejection episodes. Recent data from CTOT-9 (Clinical Trial of Transplantation) investigated a CNI withdrawal regimen in cases with an immunologically low risk of rejection. However, 6 of 14 cases of CNI withdrawal experienced acute rejection [115]. Also, ZEUS study reported by Budde et al. demonstrated the development of de novo DSA production after conversion from cyclosporine to everolimus [116]. Additionally, Gallon et al. investigated the conversion from CNI to sirolimus. It was concluded that renal function was equal between the groups but the sirolimus group showed activation of IL6 and IFN-γ, suggesting indirect alloreactive T cell activation [117].
Polyomavirus infection
Polyomavirus allograft nephropathy (PVN), typically associated with BK virus, is caused by re-activation of latent intragraft polyomaviruses under immunosuppression. PVN was first described by Mackenzie in 1978 [118], and subsequent reports described the importance of PVN in patients with kidney transplantation. Approximately 30–50% of recipients demonstrate viruria by cytology or polymerase chain reaction within the first 3 months after kidney transplantation and PVN can occur at the average time of 10–14 months, but as early as 6 days and as late as 6 years, after kidney transplantation [119]. The prevalence of PVN was reportedly 1–10 and 20% of PVN cases showed graft failure [120].
The key to diagnosing PVN is the histological features of the epithelial cells: the so-called ground-glass intranuclear inclusion body, cell lysis, necrosis, shedding into the tubular lumen, denudation of tubular basement membrane, interstitial inflammation, tubulitis, IF/TA, and the positivity of these cells for SV40 staining [121]. Clinicopathological features of PVN include a high rate of false-negative biopsies, difficulties in distinguishing TCMR, the presence of CMV infection, and persistence, for months to years [122–126].
Characteristic histological manifestations of polyomavirus infection
The target lesions in PVN are epithelial cells of the collecting duct, tubules, and Bowman's capsule (parietal epithelial cells). PVN may spread from the urothelium and medulla to the ascending parts of the tubules and Bowman's capsule. Thus, if the foci of parenchymal involvement are smaller, there may be a higher rate of false-negative biopsies. To diagnose early PVN, it is important to pay attention to the depth zones of the kidney samples (medullary ray and medulla). The distinctive histological findings of PVN consist of four types. The most common type is (1) the ground-glass intranuclear inclusion body, followed by (2) a central intranuclear inclusion body surrounded by a halo, (3) nuclear enlargement and fine granular and vesicular changes, and (4) clumped changes [
122
] (Fig.
4a
). The positivity of SV40 T antigen staining is also helpful and indicates polyomavirus replication [
124
] (Fig.
4b
). Banff Polyomavirus Working Group has performed multicenter retrospective study to develop the histological staging system of this disease. AST (American Society of Transplantation) staging system focuses on interstitial inflammation and fibrosis [
127
], and Banff Working Proposal 2009 focused on tubular cell shedding and fibrosis [
22
]. Both systems did not show significant predictive value in a single center study [
121
]. In 2013, Banff Working Group proposed a new staging system consists of in situ viral load (pvl score) and interstitial fibrosis and now under consideration to incorporate official Banff criteria [
128
].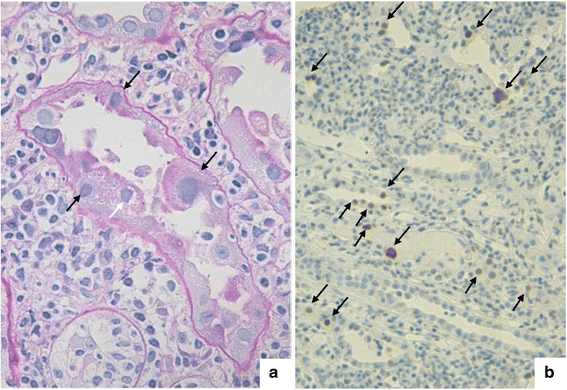 Treatment of polyomavirus infection
Specific antiviral drugs for polyomavirus infections are not yet available; thus, patient screening and early diagnosis remain important. Therapeutic methods consist primarily of reduced maintenance immunosuppression proposed in AST guideline [127]. However, clinicians should be aware that about one-quarter of patients experience acute rejection during such a reduction in immunosuppressive therapy [126]. Beyond serum CNI concentrations, mycophenolic acid monitoring is also useful in the clinical setting [129]. In terms of a preventive protocol, low-dose maintenance tacrolimus showed decreased PVN [130]. Of note, Johnston et al. reported the effect of cidofovir and leflunomide for PVN in meta-analysis [131].
Recurrent disease
Graft loss due to recurrent native kidney disease had been thought to be rare and the prevalence was estimated at 1.8% in Japan (
http://www.asas.or.jp/jst/pdf/factbook/factbook2015.pdf
). However, several recent reports suggest that recurrent kidney disease could contribute more than had been estimated previously. To diagnose recurrent disease, we should confirm the diagnosis of the native kidney biopsy together with the kidney allograft biopsy. Importantly, the timing or criteria for episode or protocol biopsies differ by institution; these differences can affect the rate and period of the recurrent disease. In most cases, estimations of the recurrence rate for native kidney disease based on protocol biopsies showed higher recurrence rates (Table
3
).
Table 3
Recurrence rate and consequent graft loss risk of glomerular disease
| | Recurrence rate | Graft loss risk |
| --- | --- | --- |
| IgAN | 30–35% | 3–5% |
| IgA vasculitis (HSPN) | 15–53% | 7.5–21% |
| FSGS | 30–60% | ~50% |
| MN | 30–45% | 10–50% |
| MPGN type I | 30–50% | ~15% |
| MPGN type II (DDD) | 66–100% | 34–66% |
Conclusions
The combination of molecular and conventional data will provide new diagnostic criteria in the near future, but conventional histopathology remains the gold standard for the specific diagnosis of allograft dysfunction. Because kidney allografts show considerable diversity, understanding the basics of rejection, CNI nephrotoxicity, PVN, and native kidney disease recurrence is essential for better kidney allograft survival.
Declarations
Acknowledgements
We thank Department of Urology and Pathology of The Jikei University School of Medicine for their collaboration. We thank Dr. Hiroyasu Yamamoto (Atsugi City Hospital, Kanagawa, Japan) for critical reading of this manuscript. We thank figures courtesy of Dr. Masayoshi Okumi, Department of Urology, Tokyo Women's Medical University, Tokyo, Japan.
Availability of data materials
Data sharing not applicable to this article as no datasets were generated.
Authors' contributions
AK designed and wrote the manuscript. TY designed and wrote the manuscript. YN designed and helped to draft the manuscript. IY designed and wrote the manuscript and performed the manuscript review. TY performed manuscript review. All authors read and approved the final manuscript.
Competing interests
The authors declare that they have no competing interests.
Consent for publication
Not applicable.
Ethics approval and consent to participate
Not applicable.
Open AccessThis article is distributed under the terms of the Creative Commons Attribution 4.0 International License (http://creativecommons.org/licenses/by/4.0/), which permits unrestricted use, distribution, and reproduction in any medium, provided you give appropriate credit to the original author(s) and the source, provide a link to the Creative Commons license, and indicate if changes were made. The Creative Commons Public Domain Dedication waiver (http://creativecommons.org/publicdomain/zero/1.0/) applies to the data made available in this article, unless otherwise stated.
Authors' Affiliations
(1)
Division of Nephrology and Hypertension, Department of Internal Medicine, The Jikei University School of Medicine, Minato-ku, Japan