Which clinical conditions are most suitable for induction of automated peritoneal dialysis?
Renal Replacement Therapy
2016
2:46
Received: 9 May 2016
Accepted: 21 July 2016
Published: 21 September 2016
Abstract
This review article is an invited review by both the Japanese Society for Dialysis Therapy (JSDT) and Japanese Society for Peritoneal Dialysis (JSPD).
Automated peritoneal dialysis (APD) using a cycler machine is an alternative choice for patients who are on peritoneal dialysis (PD) for the treatment of end-stage renal disease (ESRD). The main purpose is to allow more free time and an improved quality of life for PD patients versus continuous ambulatory PD (CAPD). However, it remains unclear which modality is a better choice, especially with regard to the induction period of PD, due to a lack of research. When we propose PD therapy to ESRD patients, in addition to the obvious benefit of more free time, we also need to consider the advantages and disadvantages with regard to each patient's medical comorbidities, physical condition, social activities, psychological readiness, and medical economics.
In this review, we attempted to determine which method is more advantageous overall, APD or CAPD. In conclusion, it is important to consider the medical, social, physical, and economic aspects for each PD patient as well as patient preference when helping patients choose between APD and CAPD.
Keywords
Peritoneal dialysisAPDCAPDAdvantagesDisadvantages
Background
This review article is an invited review by both the Japanese Society for Dialysis Therapy (JSDT) and Japanese Society for Peritoneal Dialysis (JSPD).
Automated peritoneal dialysis (APD) was introduced in the 1960s using concepts that are similar to current methods. To perform peritoneal dialysis (PD) in patients with end-stage renal failure (ESRD), peritoneal puncture was essential for the insertion of a cannula to access the abdominal cavity each time a patient presented for dialysis, until the development of the silicon-based Tenckhoff catheter introduced by Henry Tenckhoff in 1968 [1]. Therefore, peritonitis occurred very frequently and prevented clinical use of continuous long-term PD therapy. Boen et al. reported that APD was performed intermittently with the use of huge amounts of PD fluid (PDF) [2]. To induce APD, large 12-gal (close to 45 L) glass bottles of PDF were required for the automatic cycler machine. They described that ESRD patients on APD therapy enjoyed more free time as it allowed for the exchange of larger amounts of fluid over shorter periods of time; thus, dialysis could be performed intermittently (once every 3 or 4 days). Moreover, patients experienced less frequent episodes of peritonitis.
In 1972, Tenckoff et al. proposed a much simpler APD system that was more compact and attached to a reverse osmosis unit to eliminate the need for huge bottles [
3
], and the Drake-Willock PD cycler machine was developed with a reverse osmosis system [
4
]. The development of the Tenckhoff catheter allowed permanent access to the peritoneal cavity. Glass bottles for containment of PDF evolved into plastic bags that continue to be used today [
5
]. Because of the induction of continuous ambulatory PD (CAPD), PD therapy became safer and ESRD patients were completely released from bedrest in the hospital and had greater freedom. The CAPD system also contributed to a decrease in peritonitis and gastrointestinal injuries caused by repeated puncture with a PD cannula. After that, a system was developed similar to present-day APD. In the 1980s, the automated peritoneal dialysis cycler machine, Pac-X (Baxter Limited, Tokyo, Japan), was introduced worldwide [
6
] and was also used as a primary cycler for APD in Japan, followed by the Pac-X cycler II (Baxter, Fig.
1a
). The Quantum PD dialysis machine (Baxter), a simple automatic bag change system that could perform only one bag change per night, was also used to support nocturnal dialysis regimens in Japan (Fig.
1b
). Now, we can choose from four types of much more compact cycler machines from four different PD companies (Fig.
2
).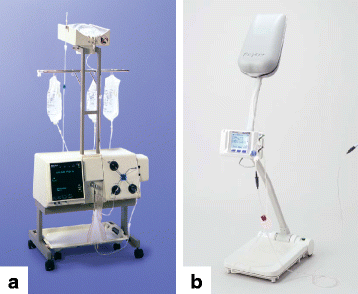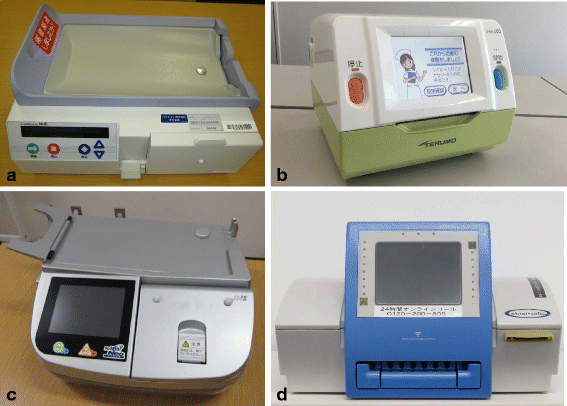 When cycler machine-operated APD was introduced, its greatest advantage was a larger selection of PD treatments options, including continuous cycling PD (CCPD) (Fig.
3
), and different types of dialysate solutions could also be mixed in a cycler machine. In the present method of APD, the cycler machine is also advantageous because of the decreased frequency of PDF bag changes needed. Currently, a standardized APD selection does not exist in Japan. Unfortunately, there are a few studies originating in Japan for supporting the use of APD. Therefore, the decision to select induction of APD is often influenced by experiences and preferences of physicians, patients, and/or caregivers. Thus, the question remains, is it better to choose CAPD or APD for patients? In this review, we refer to previous reviews and recent reports and summarize the advantages and disadvantages with regard to medical, socioeconomic, and psychological aspects of care when choosing the best APD system.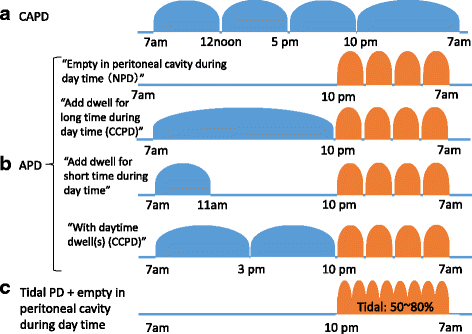 Which is more medically advantageous to patients with ESRD: APD or CAPD?
Which is more suitable, APD or CAPD, to improve health-related QoL in physical, psychological, and social activity?
Effects for health-related QoL
We believe that current treatment with induction of APD can relieve PD patients from rushing to perform repeated daily bag changes, thus allowing more free time. It was expected that APD might be better than CAPD with regard to physical, psychological, and/or social activities of PD patients. Some studies were evaluated using mental composite scores and physical composite scores in the comparison of APD and CAPD. Surprisingly, most published reports, including prospective cohort studies and RCT studies, showed no significant differences in health-related quality of life (QoL) or depression in PD patients treated with either APD or CAPD [
11
,
65
]. In a review published by Bieber et al. in 2014, several of those reports concerning health-related QoL were summarized [
7
]. They described that the health-related QoL of ESRD patients was not different between APD and CAPD. For QoL of caregivers, APD might be better than CAPD [
66
] (Table
5
).
Table 5
Comparison between APD and CAPD for health-related quality of life and sleep
| Study (published year) | Study design | Setting countries | Data source | N (CAPD,APD) | Duration of observation | Results |
| --- | --- | --- | --- | --- | --- | --- |
| Bro S et al. (1999) [16] | Randomized controlled study | Denmark (1995–1999) | Multicenter | 34 (17, 17) | 6 months | APD was better for QoL but more problem for sleep disturbance |
| de Wit GA et al. (2001) [67] | Cross-sectional study | Netherlands (1993–2001) | Multicenter, (NECOSAD) | 96 (59, 37) | N/A | APD was better |
| Sunder S et al. (2008) [68] | Prospective observational study | India (N/A) | Single center | 18 | 12 months | Ns. |
| Guney I et al. (2010) [65] | Cross-sectional study | Turkey (N/A) | Single center | 68 (48, 20) | N/A | Ns. |
| Balasubramanian G et al. (2011) [11] | Retrospective observational study | UK (2003–2008) | Single center | 224 (111, 131) | 5 years | Ns. |
| Michels WM et al. (2011) [101] | Prospective cohort study | Netherlands (1997–2006) | Multicenter (NECOSAD) | 550 (486, 64) | 3 months–3 years | Ns. |
| Losso RL et al. (2015) [110] | Observational cross-sectional study | Curitiba, Parana, Brazil (N/A) | Multicenter | 76 (48, 28) | N/A | Ns. |
Quality of sleep for APD
Disturbance of sleep might occur more frequently with APD than with CAPD. One reason may be the cycler's loud beeping to alert PD patients. The alert is necessary to wake up PD patients in order to resolve any trouble and continue APD therapy. However, although one might expect APD to decrease the quality of sleep [16, 65], there were no significant disadvantages of APD noted with regard to sleep disorders compared to CAPD in previous reports [7, 67, 68]. In fact, both APD and CAPD may equally worsen poor sleep quality [65].
Aspect of medical economics in the selection of APD or CAPD
Compared with CAPD, APD is more expensive. In a report from Denmark in 1999, the running cost for APD was shown to be 123 % of CAPD [16]. The cost of APD was 139 % of that of CAPD in a UK report from the National Health Service [69]. In Spain, it was reported that the cost of APD was approximately 136 to 160 % of CAPD [70]. Japan is not exceptional with regard to the expenses associated with APD. Now, as we face an aging society, annual medical expenses may be further expanded in the future worldwide [71, 72]. We may need to balance the medical and social benefits for each individual PD patient with cost performance. Because APD is significantly more expensive than CAPD, when APD is the preferred choice, it may be better to perform intermittent PD with APD in order decrease the number of APD exchanges. However, to perform intermittent PD alternating with APD, preservation of RRF and control sodium intake might be required and decrease overall cost as the result [73].
Other advantages and disadvantages of APD
PD patients often prefer APD because another advantage is the lessened amount of time required from caregivers [14, 74]. Particularly, APD may be a good choice for caregivers of disabled PD patients [74]. On the other hand, manufacturer's instructions for handling of cyclers may be complicated compared with CAPD. Additionally, if a natural disaster occurs and lifelines including electricity are stopped, CAPD can work more easily than hemodialysis [75, 76]. When the great East Japan earthquake happened and the delivery of both electrical supply and water supply stopped, PD patients could still continue CAPD therapy [77]. However, cyclers require electricity because they do not have batteries. Therefore, CAPD is more efficient during natural disasters, compared with APD. Cyclers for APD are generally heavy and require delicate precision and are thus not suitable for easy carrying. Making space for a cycler and its related equipment in a patient's house is required to initiate APD.
Advantages of APD for children
Until now, there have not been enough reports to recommend selection between APD and CAPD. Generally, induction of APD may be considered in children with ESRD, especially small children who are cared for by their family [66] and can attend school without the need to perform bag exchanges [78]. Comparing children on CAPD with children on CCPD with a cycler, the removal of creatinine, urea, and phosphates is similar and dependent on dwell time and PD volume [66]. To decrease the incidence of peritonitis in younger children, Lee et al. reported that APD was better than CAPD [79]. Therefore, APD may also be important to decrease the risk of bag change contamination for younger children or their caregivers. In contrast, Roszkowska-Blaim et al. showed that RRF was preserved in CAPD more than in APD in children on PD [80]. As another interesting point, analysis of health-related QoL of caregivers, such as patients' parents, was reported. However, even if using APD, it was commented that children's parents might still have felt physiological and emotional stressrelated to supporting their children [81].
Briefly, as the 2011 NICE guideline in the UK recommends, APD may be offered for children, especially those with low RRF [82]. However, it is important to keep in mind that APD may allow reduction of RRF more rapidly than CAPD.
Expectations for APD in the future
A first-generation cycler, the Pac-X cycler II (Baxter), was too large for Japanese houses. After that, cycler machines for APD became more compact and were also functionally improved. In Japan, the home APD systems YUME and YUME plus, My home PICO® APD system, PD-mini Neo APD system, and Sleepsafe® APD system were developed by Baxter Limited, TERUMO Co. (Tokyo, Japan), JMS Co. (Tokyo, Japan) and Fresenius Medical Care Japan (Tokyo, Japan), respectively. Recent cycler machines used in Japan are able to store APD medical records, monitor the time course, and review it later, and the cycler machine can output measurements of body weight and blood pressure (APD system PD-Mini Neo, JMS Co.). However, the manufacturer's information is still complicated and PD patients are required to learn these procedures when a cycler machine is introduced. It might be especially difficult to introduce a cycler machine for disabled patients, especially those with blindness or hearing loss, as well as with older patients. In order to induce APD for patients with hearing loss, a telemetry system as a communication tool might be useful [83].
As a future cycler machine, Bieber et al. described the potential development of a cycler for APD that should be simpler to use and which has a large touchscreen, sterile connecting system, voice operated controls, a data sharing function between patients and medical staff, improved safety, and better cost performance [7]. In Japan, Nakamoto proposed a telemedicine system to manage outpatients on PD therapy at home [84]. In the future, a remote-controlled cycler machine may be developed.
At present, many machines are improving worldwide. Hopefully in the future, a cycler machine for APD will be developed that would enable the user to set everything automatically with one touch, and no complicated procedures for how to use the cycler machine will need to be learned.
Conclusions
At this moment, we still have not had enough evidence to say which is better, APD or CAPD, for every patient on PD therapy; and patient and physician preference may be important in choosing APD. We still need to consider which may be better between APD and CAPD on an individual basis based on medical, socioeconomic, and emotional aspects. Clinically, APD may be a better choice in infants and young children, although more supporting data is needed. Assisted APD may be a better choice for older patients who require caregiver support. It is also important to consider each patient's preference in the decision to introduce the cycler for APD.
Abbreviations
APD, automated peritoneal dialysis; CAPD, continuous ambulatory peritoneal dialysis; CCPD, continuous cycling peritoneal dialysis; ESRD, end-stage renal disease; PD, peritoneal dialysis; PDF, peritoneal dialysate fluid; PET, peritoneal equilibration test; PKD, polycystic kidney disease; QoL, quality of life; RRF, residual renal function; SAS, sleep apnea syndrome
Declarations
Acknowledgements
The authors thank Dr. M. Nakayama and Dr. M. Kubota for the opportunity to write this review article.
Funding
This work was supported by the 21th annual meeting of the Japanese Society for Peritoneal Dialysis.
Availability of data and materials
None.
Authors' contributions
MM designed and drafted the manuscript. YS, FA and YI helped to draft the manuscript. All authors read and approved the final manuscript.
Competing interests
Mizuno M, Suzuki Y, and Ito Y worked in the Department of Renal Replacement Therapy as positions endowed by Baxter Japan at Nagoya University Graduate School of Medicine.
Consent for publication
All authors have contributed for this manuscript. This manuscript has been read and approved for submission by all authors and is not under review elsewhere.
Ethics approval and consent to participate
Not available because this manuscript is a review.
Open AccessThis article is distributed under the terms of the Creative Commons Attribution 4.0 International License (http://creativecommons.org/licenses/by/4.0/), which permits unrestricted use, distribution, and reproduction in any medium, provided you give appropriate credit to the original author(s) and the source, provide a link to the Creative Commons license, and indicate if changes were made. The Creative Commons Public Domain Dedication waiver (http://creativecommons.org/publicdomain/zero/1.0/) applies to the data made available in this article, unless otherwise stated.
Authors' Affiliations
(1)
Renal Replacement Therapy, Division of Nephrology, Nagoya University Graduate School of Medicine, Nagoya, Japan